Take the Junk Food Detour

Have you ever been tempted to give your kids a junk food option just because you're in a hurry and it seems the easiest thing to do at the time? You're certainly not alone.


Find Junk Food Options with the Snack Finder

This snack-finder created just for parents by the Family Education Network offers several ideas for substituting junk snacks with healthier snacks.

Pick out a familiar snack from the assorted choices that you are offered in the parade of snacks that pass by on your screen and then find out what might be a healthier alternative to that snack choice just clicking on the food of your choice (e.g. donuts, French fries, double cheeseburger, etc.) This can be a fun and educational activity to play with a child. You might even discover some choices that your child would be interested in trying.

http://life.familyeducation.com/healthy-snack-finder?detoured=1
Play the Dining Decisions Game

Another dining decisions game to play with your child is offered by Centers by Disease Control and Prevention. Have your child discuss the options passing by on the conveyer belt! Check it out at:

http://www.bam.gov/sub_foodnutrition/diningdecisions_games.html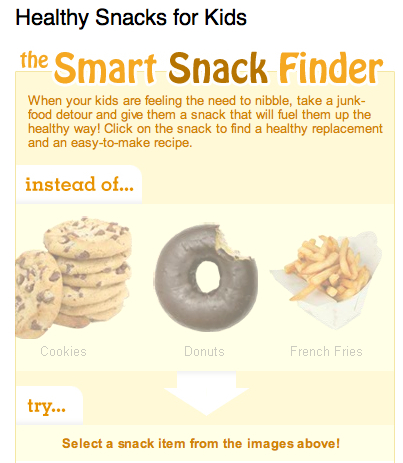 Breakfast on the Go
Breakfast is such an important meal, yet somehow in the morning rush it can get short-changed.

Breakfast Research
Research suggests that not having breakfast can affect children's intellectual performance. The percentage of young people who eat breakfast decreases with age; while 92% of children ages 6–11 eat breakfast, only 77% of adolescents ages 12–19 eat breakfast.
Hunger and food insufficiency in children are associated with poor behavioral and academic functioning.


Breakfast Ideas
Check out the Kids Health site for breakfast ideas:

http://kidshealth.org/kid/recipes/diabetes/d_breakfast.html


Other breakfast ideas for kids on the go can be found at:

http://life.familyeducation.com/snacks/nutrition-and-diet/54835.html?detoured=1&_R=1
http://www.dole5aday.com/HTML/Kids/Kids%20Cookbook/Breakfast%20Recipes.html
Beat the Sugar Rush: Healthy Snacks
Because so many of our children are now at risk for Type II diabetes, it has become very important for parents to consider how they can discourage some of the highly advertised high calorie snacks that are high in sugar in favor of healthy snack choices.

The American Diabetes Association is well aware of the problems parents are having in reducing the amount of sugar in their children's diets. They offer some excellent recipe suggestions that are well worth checking out:


http://tracker.diabetes.org/myfoodadvisor.html
http://kidshealth.org/kid/recipes/


Meet the kids on the Healthy Hearts site and find out their suggestions for some fun snacks.


http://www.healthyhearts4kids.org/intro/student/fun/snackweek.asp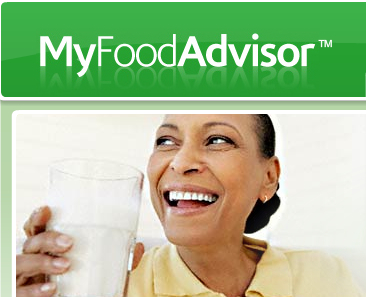 Getting Kids To Help in the Kitchen
One strategy for encouraging healthy eating is to involve your kids in the food preparation. Many parents report the best thing they ever did was to draw their child away from his/her favorite screen and involve them in the kitchen.


Non-Cook Recipes for Kids

Here are some non-cook recipes that you might find useful when you're getting your child involved in the kitchen for the first time. These recipes are suggested for teachers who work with children in the early elementary grades 1-3.

http://www.foodafactoflife.org.uk/Sheet.aspx?siteId=13&sectionId=51&contentId=140
Simple Healthy Recipe Ideas for Kids

The parents often start with fairly simple recipes determined by the age of their child. If you're looking for good ideas, one good place to find recipes to try with your child is to check out the Nemours Foundation site.

These recipes are all intended to involve your child while at the same time promoting healthy food choices.

http://kidshealth.org/kid/recipes/index.html
More Recipe Ideas for Kids

Looking for more ideas? Visit the kids' site, Nutrition Explorations and check out the kids' kitchen. Try out the featured recipe with your children.
http://www.nutritionexplorations.org/kids/kitchen-main.asp


The Dole Company offers the Superkids' Cookbook with ideas for involving your child in the kitchen. See:

http://www.dole5aday.com/html/kids/Kids%20Cookbook.html
Eating More Fruits and Veggies:

Even if you're eating on the go, here are some good suggestions for getting your child to eat more of his/her fruits and veggies.

New Type of Fruit Roll-Up
One favorite suggestion here is for a new type of fruit roll-up: You start with a tortilla and some peanut butter and then just add your favorite fruit (fresh or dried) and roll it up! Have your kids create their own fruit roll-ups!


For more ideas check out:

http://www.fruitsandveggiesmorematters.org/?page_id=1417
Staying on a Budget

So you're of course concerned about the prices of fruits and veggies. Well, the folks at More Matters also have some advice on how to increase the fruits and veggies we eat and keep within our budget. For some of ideas that you might find helpful, see:

http://www.fruitsandveggiesmorematters.org/?page_id=1419
Encouraging Kids to Pack a Healthy Lunch

Having trouble encouraging your kids to pack a healthy lunch? Check out a few of these tips for ideas:

http://www.fruitsandveggiesmorematters.org/?page_id=1418
Website Resources
There are so many excellent websites available to encourage healthy eating that we feel it should be our job to direct you to some of these excellent resources if you don't already know about them.


Guide to Healthy Eating

For a general guide to healthy eating and what you can do to make sure that your family is getting healthy meals, see the guidelines brought to you by the American Diabetes Association:
http://www.diabetes.org/nutrition-and-recipes/nutrition/healthyfoodchoices.jsp


Site for Girls

If you are a girl or the parent of a teen or preteen girl, you'll want to have a look at this site brought to you by the U.S. Office of Women's Health. Among other things, the site speaks to the kinds of foods that young girls should be including in their diets while it also addresses issues that of concern to a teenage girl, such as relationships, bullying, nutrition, fitness, drugs, alcohol and smoking, emotions, etc.


http://www.girlshealth.gov/nutrition/mypyramid/


If you have questions about vitamins and nutrients and just want a simple, basic overview, check out this section of the site offered by the U.S. Office of Women's Health.

http://www.girlshealth.gov/nutrition/essentials/index.cfm#vitamins
One Size Doesn't Fit All
The MyPyramid site sponsored by the United States Department of Agriculture offers personalized eating plans and interactive tools to help you plan and assess your food choices. Additionally, you can find advice to help you make smart choices from every food group and find your balance between food and physical activity. Get the most nutrition out of your calories and stay within your daily calorie needs!

http://www.mypyramid.gov/index.html
Healthy Eating on a Budget

We all know that these days food can cost a lot! How can we save money while still feeding our family healthy meals?

The National Heart Lung and Blood Institute offers a list of tips that can help you the next time you go shopping. See:

http://www.nhlbi.nih.gov/health/public/heart/obesity/wecan/downloads/tip_saving.pdf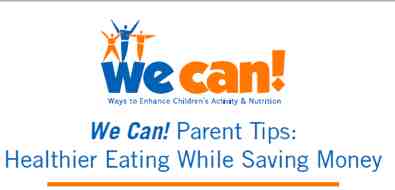 The GO, SLOW and WHOA Foods Guide
How can you go about explaining to a child that some foods should be eaten in moderation while others should only be chosen very occasionally?

The National Heart Lung and Blood Institute introduces us to the WE CAN campaign and the GO, SLOW, WHOA foods with some ideas that might make this difficult job easier.


GO Foods

We all have our favorite Go foods, those that we love and that are good for us.


SLOW Foods

There are also those foods that are higher in fat, added sugars and/or calories but we still love them. These are foods that we should start to see a big Yellow Light when we feel like eating lots. They are okay but try to eat them less often.


WHOA Foods

Then there are the WHOA foods that most of us know we have. These are the foods highest in fat and/or added sugars; we know they can't be good for us, but they are sometimes hard to resist. These are the big WHOA, Red Light foods. Once in a while or on special occasions we could certainly not be expected to avoid them all together. But we really have to watch ourselves!


For More Information

For more information about the Go, Slow, and Whoa foods including a chart to help guide you and your family, see:


http://www.nhlbi.nih.gov/health/public/heart/obesity/wecan/downloads/tip_choices.pdf