How active are adults?

Government research has concluded that one quarter of U.S. adults aren't active at all in their leisure time.
More than half these adults don't get the kind of physical activity that actually helps health, walking fast enough to raise the heart rate for example.


Another startling statistic: More than 60 million adults are obese.
How healthy are our children?
Experts are beginning to conclude that
we are a nation that is raising a generation of children who may turn out to be less healthy than their parents. About a third are overweight and 16% are obese
.

So if you have a young child, you may not see this as a problem since young children are naturally active when given the chance. However, our schools are decreasing the amount of recess and gym time.
By high school, one recent study found, fewer than a third of teens are getting an hour of activity a day.

Physical Guidelines
The situation has become so serious that the Federal Government issued in October, 2008 its first ever set of physical guidelines for Americans.
The guidelines are designed to show all of us how we could find ways to fit physical activity into our daily routines with activities that we would enjoy. For ideas as to how you and your family might get moving more, see:

LINK
Some is better than nothing!
Experts continue to tell us that regular physical activity over months and years produces long-term health benefits and reduces the risk of many diseases.
The more physically active you are, the more health benefits you gain.

Regular physical activity reduces the risk in adults of early death
; coronary heart disease, stroke, high blood pressure, type 2 diabetes, colon and breast cancer, and depression. Added benefits are certainly that it can improve thinking ability in older adults and the ability to engage in activities needed for daily living.

"Get active your way," former HHS Secretary Michael Leavitt told The Associated Press. It's really okay to just start slowly. If we haven't been doing any exercise, even getting 10 minutes a day will help us as we get started and work up to the amount that is recommended for our age group. It's OK to start slowly. As Rear Adm. Penelope Royall, deputy assistant secretary for disease prevention is quoted as saying,


"Some is better than nothing, and more is better!"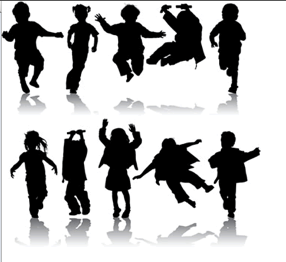 Ideas to Get Moving

For some ideas in how to get your kids moving, see suggestions on the Action for Healthy Kids website:

LINK
For more ideas see the website Healthy Hearts. Here you can find activities on the Kid's Page of website:

LINK
Exercise is important for you, too! Check out these sites for more ideas as to how to get up and moving.
Especially notice the benefits you are going to receive for both your body and mind.


CLICK HERE
AND HERE